Lymphoedema Awareness Week 6th – 11th March 2022
#EveryBodyCan join the BLS and partners for webinars during Lymphoedema Awareness Week 2022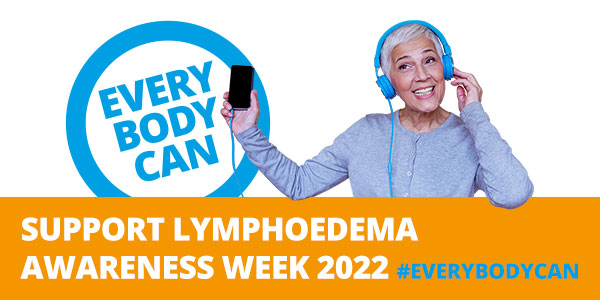 The BLS (British Lymphology Society) and partners will be holding events on Zoom and Facebook and people will be able to attend live discussions and ask the experts or catch up later and join the chat on social media.
The BLS is a dynamic and innovative body providing a strong professional voice and support for those involved in the care and treatment of people with lymphoedema and related lymphatic disorders, including lipoedema. The Society seeks to achieve high standards of care and equitable access to treatment across the UK and promotes early detection and intervention and, where appropriate, screening and prevention.
Planned activities include:
Sunday 6th March –  celebrate World Lymphoedema Day with colleagues around the world. Dr Kristiana Gordan presents "Lymphoedema: what everyone needs to know". Viewers can join live at 4pm or watch later on Facebook.
Monday 7th March at 7pm – view the popular and highly requested presentation from #BLS2020 Conference by Jane Wigg and Natalie Phillips – "New thinking in the management of breast and chest wall lymphoedema"
Wednesday 9th March at 12pm – video from Performer and Dance Teacher, Hannah Mae Roberts. Join Hannah for "It's Always Better When You're Dancing", a short sequence of movements adapted for all abilities. Followed by a live discussion and follow up questions to a panel of lymphoedema professionals and Hannah herself.
Friday 11th March at 12pm – video from the Lymph Notes Choir, showing how using deep breathing, relaxation and group singing as part of a well-being initiative to support self-management, reduce social isolation and improve confidence.