Every CONTACT counts to Stop the Pressure – C
Find out how Every C-O-N-T-A-C-T Counts to #STOPTHEPRESSURE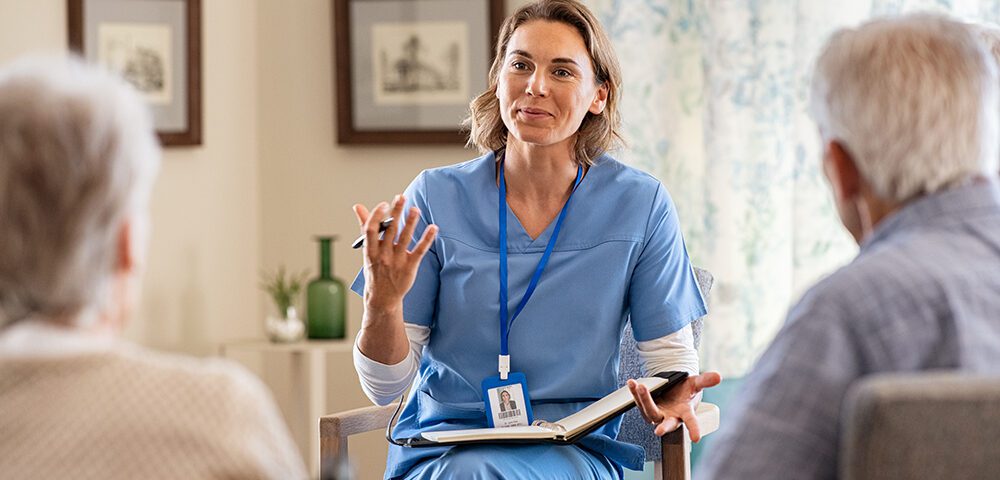 C

-O-N-T-A-C-T
Start the CONVERSATION, CONNECT, COMMUNICATE, show that you CARE.
This example around device related pressure ulcers illustrates the importance of CONNECTING and COMMUNICATING with both the clinical team and those in their CARE to ensure prevention is a key part of every CONVERSATION.
A medical device related pressure ulcers (MDRPU) result from the use of devices designed and applied for diagnostic or therapeutic purposes. The resultant pressure injury generally conforms to the pattern or shape of the device (NPUAP, 2016).
Face masks and healthcare professionals
During the Covid-19 pandemic, many practitioners suffered skin problems related to PPE. This was due to their hyperhidrotic effect as well as contact dermatoses, pressure, friction and shear, all of which was exacerbated in the context of pre‐existing skin disease (Campbell et al, 2020)
In the context of face masks, we quickly learned that one size does not fit all!  We also learned to keep CALM and protect our skin: CLEANSE, moisturise and hydrate; AVOID make-up; LIMIT mask wear time – take a break every 2 hours, if possible; MONITOR for early signs of skin damage.
Oxygen masks for patients – tips to avoid MDRPUs
But how many of our patients receive the same level of CARE / advice? And what should they use to moisturise and hydrate if they are receiving oxygen? This very useful leaflet developed by the James Pagent James Paget University Hospitals advises that when using oxygen, the mouth and nose can become very dry. Patients should be advised to drink plenty of water (as allowed) and to use water based gels such as Oral Balance, KY Jelly or Aquagel on their lips. Petroleum based ointments or lotions should not be used in, or around your nose – this includes products such as Vaseline, Vicks, Chapstick, lip salves and lip sticks. Oxygen can react violently with these oily substances and can cause burns.
It is not always possible to limit mask wear time, particularly if a patient requires continuous positive airway pressure (CPAP) therapy or non-invasive ventilation (NIV). However, it may be possible to alternate mask type or the oxygen delivery system (eg in our tiny neonates, we will sometimes swap between a face mask and nasal cannula). In addition, there is now access to 'bridge free' full face NIV masks, which effectively eliminate pressure on the bridge of the nose.
As well as potential damage to the face, we need to think about the damage to ears from the straps, or in the case of nasal cannula, the tubing. There are lots of suggestions in the literature on how to protect ears, from taping bits of gauze or prophylactic dressings to the back of the ears, or on the tubing itself, to tubular foam which is designed to fit over tubing, and even headbands – but these can be difficult to retain in place and are relatively expensive. It is definitely a challenge to find that perfect balance between keeping enough tension on the tubing so that the mask or nasal cannula remains in place, and too much to where it chafed or cuts ears. How much better would it be, for the tubing to come with integral ear protection! Perhaps clinicians, industry and procurement teams could work together to develop or source this equipment.
Other MDRPU risks
Unfortunately, masks are not the only thing we need to worry about. Every medical device, comes with its own complications. For example, a common issue with naso-gastric (NG) tubes, is damage to the mucosal lining. In many situations this is because they are secured too tightly to the nares as people are afraid that they are going to be pulled out by the patient. However, this can be largely prevented by using a hammock technique or the j-method.
Every medical device, from IV cannulae to self-retaining catheters, anti-emboli hosiery, plaster casts and orthosis (to name but a few) can lead to pressure damage. We need to be mindful of potential complications, particularly when a patient is unable to feel, or respond meaningfully to pressure related discomfort, or they have an underlying condition such as peripheral arterial disease. Watch the brilliant video below from the neonatal team in the Belfast Health & Social Care Trust which shows how many devices can safely be applied to one tiny baby.
Prevention of MDRPUs
Finally, we would recommend that every clinician reads the international document entitled Device-related pressure ulcers: SECURE prevention. This document presents detailed advice on how to safely apply medical devices and improve biomechanical and thermodynamic tissue conditions at the skin-device interface.
Remember – Every Contact Counts