Help to develop the wound care standard
Take part in a UK-wide survey to help improve the delivery of wound care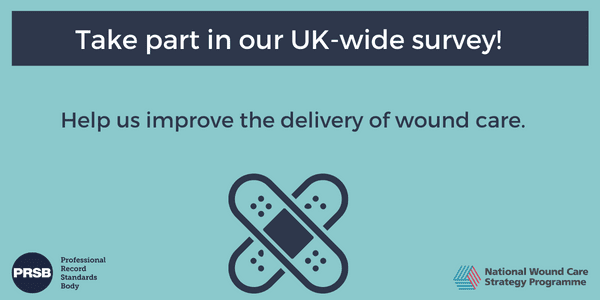 Over 2 million people are living with unhealed wounds
The PRSB has been commissioned by the National Wound Care Strategy Programme to develop a generic information standard that can help improve the assessment, prevention, management, and treatment of pressure ulcers, lower limb (leg and foot) and surgical wounds. There are currently over 2 million people living with unhealed wounds which impact their quality of life and overall wellbeing.
Please watch this short video featuring Tracy Goodwin, who explains the aims of the project and why she thinks people who use services, carers, health and care professionals and others should get involved.
The PRSB needs just 10 minutes of your time to help improve outcomes
The PRSB has gathered evidence and consulted widely this autumn to find out what information people and professionals want to record and share to support wound care management and better outcomes. They have developed a draft information standard based on feedback from consultation, and would now like your views to ensure the standard meets users' needs.
The survey should take only 10 minutes and they are encouraging you to complete and share this survey with your networks who deliver or receive wound care, so that they can maximise their reach and represent the wider views.
The survey deadline is 9am on 3rd January 2023.
If you have any questions, please get in touch at info@theprsb.org