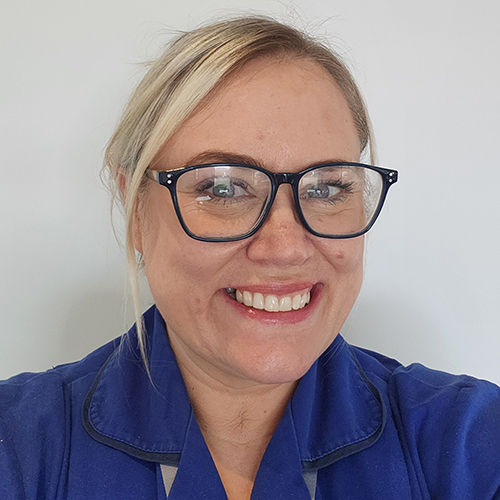 Claire qualified as a nurse in 1996, this is where her journey started within Plastic Reconstructive surgery, at London's Charing Cross Hospital and where her specialist interest in negative pressure wound therapy began and her journey within wound care.
Following this, Claire was a ward sister for many years on the Kinmonth Unit at University Hospitals of Leicester, caring for patients unedergoing burns/plastics and reconstructive surgery.
In 2010, Claire set up a Burns & Plastics specialist nursing service, which currently comprises of a team of 7 Specialist Nurses. Over the past 13 years, this team has expanded and evolved to meet the complex needs of this patient group. Services provided are daily complex wound care clinics, hospital and community outreach for patients with burns/complex wounds, medical tattooing clinic, camouflage clinic, complex lower leg wound clinic and a video/telephone clinic.
Claire is passionate about providing support to women undergoing breast reconstructive surgery and runs a patient support group, Keeping Abreast.
Through Claire's continuing professional development, and advancing clinical skills, she has developed into the role of an advanced practice lead within Burns & Plastics and is in her final year of her MSc in Professional Clinical Practice. She is a nurse prescriber and a medical tattooing practitioner.
Claire has been a guest speaker at many conferences such as: Wounds UK, Society of Tissue Viability, EUPAP in Prague and EWMA in Paris. She has published her work both nationally and internationally.
Presentation at The Society of Tissue Viability 2023 Conference
Surgical intervention for pressure ulcer management
Objectives
After attending this session, persons will be able to:
Have a greater understanding of the patient suitable for surgical reconstruction
Have an increased knowledge in the necessary aftercare
Understand the post-operative challenges
Abstract
Pressure Ulcers can be debilitating, impacting not only a patient's physical health but also their psychological and social well-being. Treatment options exclusive to off loading can vary depending on availability of resources and access to a surgical reconstruction opinion.
Within the presentation I will aim to explore the surgical reconstruction options available,  explore the risks and benefits of surgical reconstruction and share some case studies to demonstrate this.
Pressure Ulcer Reconstruction is a high risk procedure, however undertaken on the right patient, at the right time can have long term benefits to the patient.