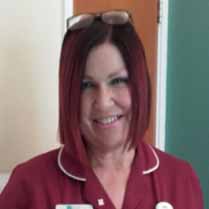 Connie has long had an interest in tissue viability and wound repair. She completed an MSc in Wound Healing and Tissue Repair at Cardiff University. She has worked as a Plastics and Tissue Viability Nurse for 10 years.
Her current role as a Clinical Services Manager is within the Independent Sector, Circle Health Group, Ross Hall Hospital in Glasgow. In this role, she works closely with Plastics and Tissue Viability to care for patients when complications arise. She takes a proactive role in education having developed and adapted sessions to meet the needs of her colleagues.
As a member of The National Association of Tissue Viability Nurse Scotland (NATVNS), Connie has undertaken numerous roles within the group including the Chair.