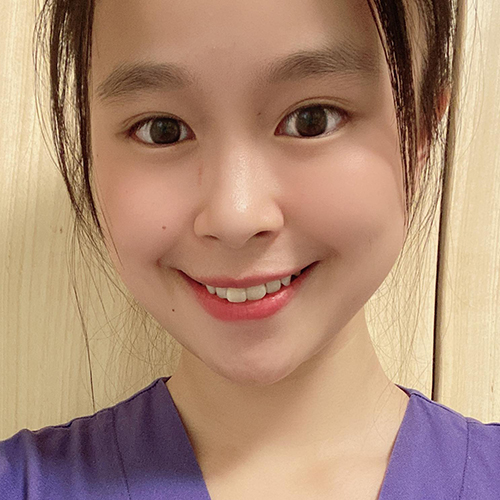 Dove has graduated with a bachelor's degree in Food and Human Nutrition from Newcastle university in 2017. She has also completed a postgraduate diploma in Dietetics at Leeds Beckett University and started her career as a registered dietitian within the NHS since 2019.
Dove is currently a Senior Specialist Dietitian in nutrition support and palliative care working across both acute and community settings at South Tees Hospitals NHS Foundation Trust. During her time in this speciality, she became passionately interested in the role of nutrition in wound healing and took part in reviewing policies and delivering training within the trust. She focusses on making a difference of patient's quality of life through food and drinks.
Her particular areas of interest include oral nutrition support, enteral feeding, cancer, gastroenterology, frailty, sarcopenia, dementia, pressure injury, palliative care and end of life care.
Dove is also the PR officer at the British Dietetic Association (BDA) Older People Specialist Group. She has published various articles related to older people nutrition on magazines and created many useful infographics on social media.
Presentation at The Society of Tissue Viability 2022 Conference
The importance of nutrition in pressure injury prevention and management
Objectives
After attending this session, persons will be able to:
Understand the relationship between nutrition and pressure injury development and healing
Consider the current nutrition guidance on prevention and treatment of pressure Injuries
Recognise the challenges in developing nutrition pathway in reducing pressure injuries and improve healing rates
Abstract
Nutrition and hydration play a vital role in pressure injury prevention and management. We often hear people say that protein, vitamin C and zinc are key nutrients for wound healing. But what are the actual roles of these nutrients during the four phases of wound healing? Do other nutrients also play a role? The National Pressure Ulcer Advisory Panel (EPUAP) has updated the clinical nutrition guideline on the prevention and treatment of pressure injuries in 2019. Despite significant efforts by dietitians, there is limited successful nutrition pathways in reducing pressure injuries and improving healing rates in the UK.
This session will examine the relationship between nutrition and pressure injury development and healing. It will then discuss the current EPUAP guidance focusing on nutritional requirements, screening, assessment and management. It will use case study examples to show how healthcare professionals can give first-line dietary advice with the aid of the recent nutrition and pressure injuries resources developed by the BDA Older People Specialist Group committees. Finally, it will consider the challenges of developing nutrition pathways for pressure injuries and highlighted the need of integrated multidisciplinary care pathway.