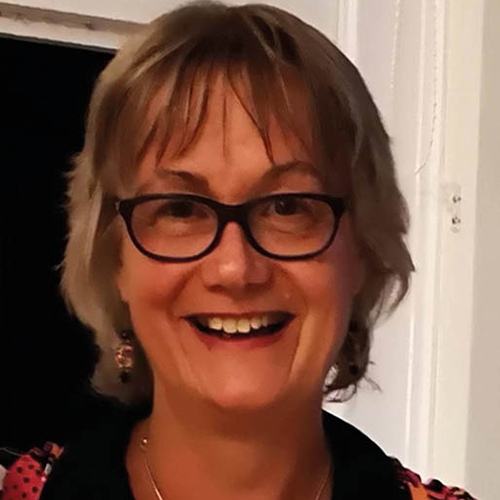 Fran has worked within the specialism of wound care as a specialist nurse for 25 years, primarily within a community context. As part of the East London Wound Healing Centre, specific knowledge and expertise was gained in managing complex and hard to heal wounds with an increasing emphasis upon the lower limb.
This led to the development of the Accelerate strapping technique, an advanced compression skill.  Fran was part of the team that spun out of the NHS in 2011 to form Accelerate CIC, an award-winning social enterprise dedicated to changing lives for people with wounds and lymphoedema. Within Accelerate she held the position of Clinical Director during a time of organisational growth and innovative practice. She has presented at conferences, written and co-authored numerous articles and contributed to best practice guidance.
Fran continues to work with Accelerate, primarily as an educator to continue sharing knowledge, expertise, and her passion for lower limb management. She is an advocate of partnership working, both with patients and practitioners to challenge current practice, make a difference and explore how care can be delivered in new and innovative ways.
Workshop at The Society of Tissue Viability 2023 Conference
Advanced lower limb management – an interactive workshop
Objectives
After attending this session, persons will be able to:
Explain the factors that cause complexity in lower limb wounds
Identify when complexities mean that standard therapy may not be enough to promote healing
Understand the links between mobilty and lower limb wounds
Understand some advanced techniques via demonstrations although attendance will not lead to clinical competence in using these techniques
Abstract
This workshop is designed for practitoners who are already confident and competent with the management of lower limb ulceration and the application of compression therapy.
The interactive workshop will refresh learners on some of the existing principles of effective compression therapy and introduce new knowledge for when ulceration is complex and standard interventions won't always be effective.
There will be a show case of some advanced techniques as well as the opportunity to experience a practical taster session. Attendance at this workshop will not ensure learners are competent to undertake these techniques in clinical practice, it will however offer a taster of the knowledge and skills that delegates may wish to go on and develop as they advance their practice.
Advances in lower limb and foot care advanced study day
Sickle cell disease and leg ulceration
Abstract
Sickle cell disease is an inherited haematological disorder primarily affecting those of African and Afro-Caribbean ancestry. The name encompasses various genotypes all presenting with the sickled shape of red blood cells caused by a mutation in the βb globin gene. The most common form of the disease is sickle cell anaemia which features sickling of red blood cells, chronic haemolysis and vasculopathy.
Sickle cell disease is characterised by episodes of acute illness alongside progressive organ damage including joint necrosis. Patients may present with a range of symptoms including cardiopulmonary and CNS complications as well as kidney disease. Chronic pain is a prominent feature interspersed with acute episodes and neuropathic elements. Lower limb ulceration is a feature of the disease process, which may first appear in adolescence. The ulceration is typically hard to heal due to the underlying nature of the disease, acute illness cycles necessitating inpatient stays, the pain narrative and a range of other variables including site of ulcer/s, long limbs often in tall patients and functional venous issues from reduced ankle range of motion and abnormal gait, secondary to pain.
Management challenges are multiple and relate to the hard to heal factors as well as the need for effective multi professional collaboration and necessity of addressing the punctuated care across acute and community environments. Partnership with the patient is key in addressing lifestyle choices. The acronym S.I.C.K.L.E. has been proposed as a way of assessing and structuring management, within which compression bandage knowledge and practitioner competence is pivotal.