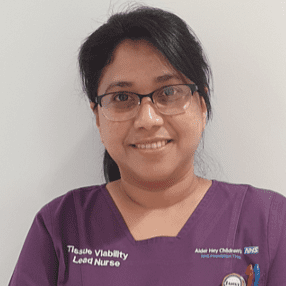 Jansy is a Qualified Registered Nurse from India and completed her general nursing and Midwifery in India.
She started her UK nursing career in 2002 as a staff nurse and for the last 21 years has been working in the UK.
For the last 16 years Jansy has been working as a Tissue Viability Specialist Nurse in different care settings, including adult acute, community, mental health care setting and Paediatric care. She currently works as a Lead Tissue Viability Specialist at Alder Hey Children's Hospital.
Working as Nurse has been a blessing in my life, throughout this journey I have had few challenges … especially migrated from different country, different language, different culture etc. The place where I work and the Job that I truly love, and I am a strong believer that with hard working, dedication and determination can achieve anything!
---
Presentation at Skin health & wound care for children study day
Hypergranulation or overgranulation
Objectives
After attending this session, clinicians have an understanding about overgranulation, cause of overgranulation , prevention & management.
Abstract
Over granulation to an open wound within the paediatric care setting has become a big challenge as this can delay wound healing, result in recurrent infection, tube/line have to change and clinicians time for wound care, also  this can affect on their daily activities physically and mentally.
This can be preventable, if we manage from the beginning. Within this presentation Jansy will aim to discuss about possible causes of overgranulation, how this can be prevented and what treatment options are available to treat this problem.