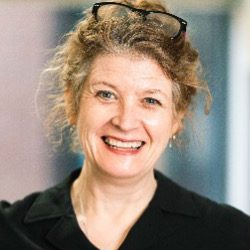 Jayne is a Senior Lecturer on the Advancing Diabetes Care MSc programme and course lead for the MSc in advancing practice in peripheral vascular disease at Birmingham City University as well as a diabetes specialist podiatrist at University Hospitals Birmingham NHS Trust. She has been involved with diabetes foot care for over twenty five years, and has published many  journal articles and presented at both National and International level.
Jayne became the first podiatrist in the West Midlands to be accepted onto the Diabetes UK Clinical Champions programme in 2019 and now sits on the committees for the Foot in Diabetes UK,  the English Diabetes Footcare Network and the iDEAL (Insights into Diabetes Excellence, Access and Learning) multi-professional panel.  She has been pivotal in the ACT NOW campaign to raise awareness of early referral of foot problems to specialist centres to reduce amputations and was awarded Fellow of the Faculty of Podiatric Medicine at the Royal College of Surgeons and Physicians of Glasgow in 2022.
Poster Presentation (Research category) at The Society of Tissue Viability 2023 Conference
An innovative multi-professional MSc programme in advancing practice in peripheral vascular disease
Abstract
Introduction – This unique Masters level programme aimed at clinical specialists or those wishing to work with people living with peripheral vascular disease; including surgical registrars, clinical specialists, podiatrists, specialist nurses, vascular scientists, sonographers and other healthcare professionals wishing to gain up-to-date education in the field
Results – Working alongside clinical inter-disciplinary colleagues in both the vascular and diabetes services at University Hospitals Birmingham NHS Foundation Trust has facilitated the development of an individualised curriculum, resulting in an MSc pathway which is both academically relevant but also clinically necessary and fully embedded in current surgical practice, blending theoretical approaches with the practicalities of service delivery and person-centred care approaches.
The international dimension, and application of culturally appropriate surgical interventions in different environments and resources, underpins this programme. Through different modules, students will explore their employment situation, recognise the potential for excellence in practice-led care, extend and enhance their employability and extend their career progression by identifying ways in which they can improve their practice and services in order to pioneer new interdisciplinary service developments that will improve the outcomes for people living with peripheral vascular disease
Conclusion – Healthcare professionals can study full or part time options gaining 60-credits to be awarded a Postgraduate Certificate, 120 credits to be awarded a Postgraduate Diploma and the full 180 credits to be awarded an MSc in Advancing Practice in Peripheral Vascular Disease. Core modules are also designed as stand-alone options for personal development and professional CPD in accordance with professional and service requirements. It is the only course of its kind on the UK mainland.
www.bcu.ac.uk/nursing-and-midwifery/courses/advancing-practice-in-peripheral-vascular-disease-msc-2022-23