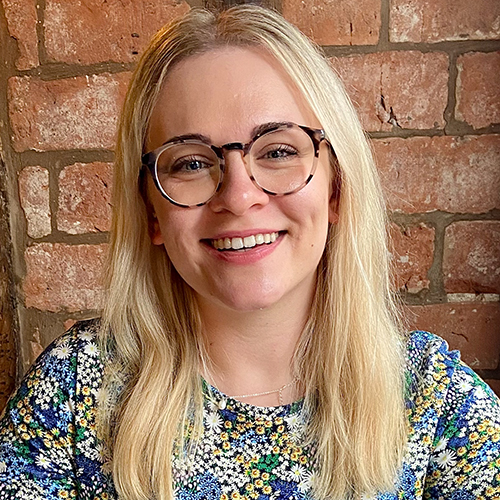 Lara qualified as a registered adult nurse in 2017, her journey within the plastic surgery world began straight away when she went to work on a short stay multi-specialty surgical ward.
Whilst in the coronavirus pandemic she had the opportunity to join the Burns and Plastics team, eventually progressing to specialist nurse in 2022. Lara has a PGCert in Professional Practice in Burns and Plastics.
Her interests are: complex wound care, care of patients with burns, sharp debridement to aid wound healing, use of dermal substitutes, paediatric wound care, scar management.
Poster Presentation (Case Study category) at The Society of Tissue Viability 2023 Conference
The Skin Scaffold
Abstract
The plastic surgery approach to wound coverage depends on the depth and size of the defect. The reconstructive grid is a selection of reconstructive options depending on the complexity of the wound cover required (Mohapatra and Thiruvoth, 2021). Extracellular matrix's are a fundamental component of the secondary healing phase. Many extracellular matrix's have been in the armamentarium for plastic reconstructive surgery for many years.
An innovative development within extracellular matrix's has added to the available tools and resources to aid patient wound healing. Within our Burns and Plastics Surgery Service at University Hospitals of Leicester we have embraced the use of a Biodegradable Temporising Matrix (BTM). BTM is a synthetic skin substitute used for treating full thickness skin defects. Wagstaff et al (2019) originally found its effectiveness in 2012 by default when the foam was used as an alternative interface for negative pressure wound therapy. Since it has been used as a 'scaffold' allowing for the development of a vascular network to enable wound healing.
In this case study the clinical outcomes of BTM will be demonstrated. The patient was a seventy-five year old gentleman who had undergone a procedure in July 2022 to remove a basal cell carcinoma to his scalp. This consisted of wide local excision of the lesion, bone burring and then application of BTM. He had Atrial Fibrillation (on apixaban) and he was type 2 diabetic on insulin. His complex medical history did not appear to hinder his healing when the BTM was used. He later received a split thickness skin graft to the delaminated BTM to fully cover the wound.
The use of BTM has changed our practice and has become embedded within our service offering patients improved outcomes in relation to scarring, appearance, function and faster healing rates.