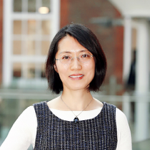 Dr Liang Qin Liu is currently a Research Fellow / Lecturer in Centre for the Critical Research in Nursing and Midwifery (CCRNM)
Adult, Child and Midwifery, Middlesex University, London. Liang has a strong research interest in pressure ulcer prevention in a variety of patient populations as well as education for Healthcare Professionals. Prior to her current position, she worked as a postdoctoral Research Associate at UCL and Royal College of Surgeons of England. Laing is also a Trustee of the Society of Tissue Viability.
Liang received her PhD degree from University College London (UCL) in 2007, when she completed her PhD project on Tissue Viability for pressure ulcer prevention in people living with Spinal Cord Injury (SCI) at Royal National Orthopaedic Hospital NHS Trust.
Over the last 15 years, Liang has been working closely with clinicians and academic partners and completed a large number of research projects on Tissue Viability. She has published many peer reviewed journal papers, book chapters and conference proceedings.
Liang's research has been awarded numerous prizes and research grants from Rosetree Trust. She has been a member of the Society since 2016 and was awarded an Educational Grant to attend EWMA 2018.
Free Paper Presentation (Research category) at The Society of Tissue Viability 2023 Conference
There should be proper training': Healthcare Support Workers reflect on their experiences of and roles in pressure ulcer prevention – A qualitative exploratory study
Abstract
Aim: To examine healthcare support workers' experiences of and roles in pressure ulcer prevention.
Background: Pressure ulcers cause personal suffering and represent a serious burden to health and social care systems. With rapid growth of aging population, healthcare workforce models project greater reliance on advanced nursing roles and concomitantly nursing support roles. Healthcare support workers are now an expanding group of nursing team who are increasingly responsible for pressure ulcer prevention. Little is known about their experiences, what roles they assume in pressure ulcer prevention or what their training needs may be.
Design: A focus group study conducted in the U.K. between March and June 2021.
Method: Four focus groups conducted online with 14 healthcare support workers working in different clinical settings. The focus groups explored healthcare support workers' experiences and views about pressure ulcer prevention. Data were analysed using thematic analysis.
Findings: 14 participants included 3 trainee Nursing Associates (2 acute, 1 community) and 1 Nursing Associate from acute settings, remaining 10 Healthcare Assistants from acute (4), community (2), domiciliary care (3), and mental health (1). The findings show that: 1) Healthcare support workers are showed high motivation towards pressure ulcer prevention; 2) A lack of knowledge, skills, resources and structured training alongside poor working conditions and patients' resistance was considered to prevent effective pressure ulcer care; 3) Good communication and multi-disciplinary team work together with appropriate training can facilitate good pressure ulcer care; 4) Pressure ulcer care might be improved by training, and more support from specialist tissue viability nurses.
Conclusion: Healthcare support workers' experiences of and roles in pressure ulcer prevention is under investigated. With increased responsibility for bedside care including pressure ulcer prevention being devolved worldwide to healthcare support workers, a review of education on pressure ulcers prevention nationally at all levels of the nursing team is required.
Free Paper Presentation (Research category) at The Society of Tissue Viability 2022 Conference
The knowledge and attitudes regarding pressure ulcer prevention among Healthcare Support Workers in the UK: a cross-sectional study
Abstract
Background: Pressure Ulcer has a significant psychological, economic and social impact on individuals and family. It also represents a significant cost burden for health and social care systems. Nurses and healthcare professionals are primarily accountable for preventing pressure ulcers. Healthcare support workers are an expanding group of key workers in the UK, with healthcare assistants alone constituting approximately one third of the caring workforce in UK hospitals.
Objective: To examine healthcare support workers knowledge and attitudes regarding to pressure ulcer prevention.
Methods: A cross-sectional study using validated Knowledge Assessment Tool and Attitudes toward Pressure Ulcer Prevention Tool was conducted from December 2020 to June 2021 among UK healthcare support workers across different settings.
Results: A total of 226 participants completed the questionnaires partially (n=62) or fully (n= 164). Lower mean knowledge score of 42%, but positive attitude score of 75.4% were reported among healthcare support workers. Participants working in acute hospital wards (46%) and nursing home (47%) scored higher in knowledge of pressure ulcer prevention than those in other settings, participants working in primary care scored lowest 8.95 (34.4%) (p<0.05, ANOVA). The weakest areas of knowledge include the aetiology of ulcers, risk assessment of pressure ulcer and addressing pressure-reducing interventions for patients at risk of developing pressure ulcer. Participants who had positive attitude towards pressure ulcer prevention significantly correlated to higher total score of knowledge in pressure ulcer prevention (p<0.005, Pearson correlation).
Conclusion: While positive attitude towards pressure ulcer prevention exist among healthcare support workers, this is overshadowed by significant knowledge deficits. Findings highlight the importance of continuing structured pressure ulcer prevention education for support workers across both acute and community settings, particular primary care and acute hospital outpatients departments. Future a national survey and interventional study is needed to examine healthcare support workers' pressure ulcer knowledge and to inform a national continuous education strategy.
Acknowledgement: This research project was funded by Burdett Trust for Nursing