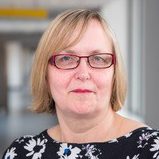 Sandra is Nurse Consultant Dermatology and Clinical Lead, Rotherham NHS Foundation Trust and Past Chair of BDNG (British Dermatological Nursing Group) 1998-2000. She is also a specialist advisor for CQC.
She qualified as a general nurse in 1981 and as a children's nurse in 2001. She started her nursing career in 1975 prior to her general training at Nottingham Eye Hospital and gained the Ophthalmic Nursing Diploma.
Sandra has worked in dermatology for 30 years previously at Nottingham University Hospitals NHS Trust and developed the role of Dermatology Liaison Sister in 1990, the first post of its kind in the UK. Her areas of interest include paediatric dermatology, care of children and their families with atopic eczema, nurse led services and vulval skin conditions.
She has contributed to the field of dermatology through her publications, presentations and research at national and international level. She was awarded Public Servant of the Year in 2003, the title of Queen's Nurse in 2007, Stone Award presented by the British Dermatological Nursing Group in 2010, Alumni Laureate Award from The University of Nottingham in 2011,Fellow of Queen's Nursing Institute in 2012 and an OBE for services to nursing in 2014. In 2015 she was also named one of The Most Inspirational People in Nottinghamshire.