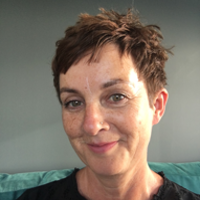 Sarah spent 40 years working within the NHS with much of this time in the community. She worked for 18 years as a District Nurse, community practice teacher and clinical development lead, and for 13 years was clinical lead of a specialist Tissue Viability team.
After re-locating to beautiful Cumbria in 2020, Sarah now practises as an independent advisor/ educator through her own Tissue Viability consultancy business. In addition to this she has also supported the Covid vaccination programme by working as a clinical lead at a local mass vaccination centre.
Sarah is currently Chair for the Legs Matter campaign and a Trustee of the Society of Tissue Viability. She is passionate about improving the knowledge and skills of clinicians delivering lower limb care and believes that raising patient and public awareness of lower limb conditions (including leg ulceration) is essential for disease prevention and early treatment intervention.
Presentation at The Society of Tissue Viability 2022 Conference
Making Legs Matter: How the campaign is making a difference
Objectives
After attending this session, persons will:
Have a good understanding of the campaigns aim and objectives
Know about the key platforms we use to raise awareness and how these are performing
Know more about the activities the campaign is planning as part of their strategy
Have information on how they can personally get involved in the campaign
Abstract
Under the governance of the TVS, the Legs Matter campaign was launched in 2018 and is led by a coalition of not-for-profit health care societies/ organisations and patient partners. It is supported financially by corporate partners from the wound care industry.
It continues to be a major influencer for improving lower limb care throughout the UK and seeks to raise public and clinician awareness of common conditions which can affect the lower leg and/or the foot by highlighting the importance of early health care practitioner involvement and evidence-based interventions. Legs Matter uses a range of platforms to campaign from, including its website, social media activity, PR campaigns and an annual awareness week.
Legs Matter is certainly making an impact both nationally and internationally. This session will update delegates on the progress being made with the campaign, will share data that demonstrates this progress, will discuss the activity we have planned for the year ahead and will suggest ways of how individuals can get involved to support the ambition of the Legs Matter coalition.