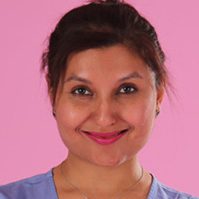 Sweta is a specialist in skin cancer and Mohs Micrographic surgery and completed post graduate training here in the UK at various centres of excellence such as Guys and St. Thomas's Hospital, Salford Royal Hospital and Portsmouth Hospitals NHS Trust with post graduate super specialisation in Mohs Micrographic Surgery, Laser Surgery and Cosmetic Surgery completed at centres of excellence in the US such as Yale Dermatological Surgery Centre, Yale University, Connecticut and The Mount Sinai Dermatologic Surgery Centre at Mount Sinai Hospital, New York.
Sweta's combination of Medical and Surgical Dermatololgy training places her in a unique position where she deals with both the diagnosis and management of complex wounds on the whole body, including the legs, and she regularly consults on complex wounds on the legs and has a special interest in the treatment of complex wounds and procedural methods for the management of complex wounds.
Sweta has an interactive and inclusive style of speaking and therefore questions and discussion are always welcome during and after her talks.