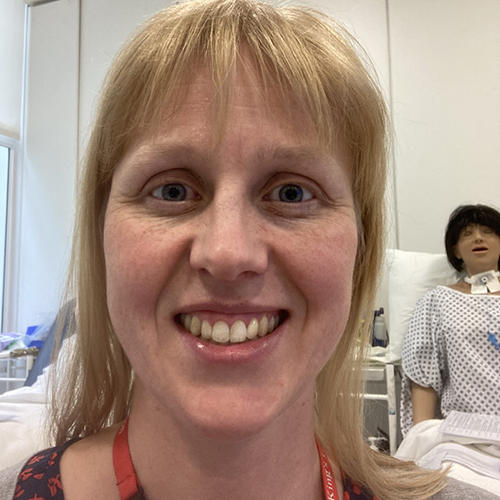 Victoria is an Adult Nursing Lecturer at Kings College London, where she is involved in both teaching and research. She has worked within a number of acute sector roles as a qualified nurse, including burns and reconstructive plastic surgery where she developed her interest in holistic wound care.
She completed her PhD at the University of Reading on improving the oral intake of older adults with increased energy and nutrient demands. This included multimodal strategies  and working with industry, scientists, patients and clinicians to improve clinical care and the quality of food and drinks served. Her research interests are in co-creating solutions to meet the needs of people living with wounds. Victoria is currently involved in developing research programmes to address unmet needs in skin assessment and shared decision making, and improving patients quality of life by co-designing medical devices for people with vulnerable skin.
Victoria has extensive experience of teaching on pre registration clinical nursing modules with specific focus on clinical and shared decision making, and learning in simulated practice. Victoria supports a learner led approach to education and often teaches through reflective discussion and debriefing.
Presentation at The Society of Tissue Viability 2023 Conference
How do we make patient-centred care a reality and how do measure the outcomes?
Objectives
After attending this session, persons will have a greater understanding of:
Recognise and develop the personal attributes and professional behaviours that enable the delivery of person-centred wound care
Critically reflect on the quality of engagement when caring for patients at risk of or living with a wound
Pioneer the role of shared decision maker, placing the "person" at the forefront on their care
Identify methods of measuring outcomes important to patients and meaningful in practice
Abstract
Person-centred care enables patients' perspectives, values and decisions to be incorporated into clinical decision-making and supported in care planning. This gives patients more control over their health and care needs. Including person-centred care in wound management increases patient involvement and satisfaction in their care.
This session is framed by McCormack and McCance (2017) framework for person-centred nursing, which has four components:
Prerequisites: the personal attributes of the nurse.
The care environment: workplace culture and systems that support person centred care.
Person-centred processes: delivering person-centred care.
Expected person-centred outcomes.
The purpose of this session is to discuss and reflect on how to deliver person-centred approaches in wound care. Together, we will explore the essential skills required to ensure people living with or at risk of wounds feel confident and involved in their wound care.
We will present a short video of a person's experience of living with a wound and their experience of care.  The audience will be invited to discuss the case and contribute their reflections and views using interactive polling software (SLIDO). This will be followed by further interactive and reflective discussion as we consider what person-centred wound care looks like, how it can be achieved and how it can be measured in ways that are meaningful to patients and to clinicians.
There will be opportunity to reflect on learning and we will review the key points people have raised.
Reference – McCormack, B. & McCance, T. (2017). Person-Centred Practice in Nursing and Health Care: Theory and Practice. 2nd ed. Newark: John Wiley & Sons Ltd.
Free Paper and Poster Presentation (Research category) at The Society of Tissue Viability 2023 Conference
What influences inclusion of skin tone diversity when teaching skin assessment? Findings from an online survey of nurse educators in practice and universities
Abstract
Background: There are concerns that teaching skin assessment is focused on people with light skin tones yet skin tones cause variances in the presentation of visual skin changes[1]. This study aims to explore real-world experiences of teaching skin assessment and considers the barriers and facilitators to including skin tone diversity in teaching nurses and student nurses.
Methods: An online survey was carried out in February 2023. Questions were based on the Theoretical Domains Framework of behavioural change[2] to determine areas to be modified or enhanced as part of a stepped approach to changing clinical behaviour. Invitations to participate were shared on social media and via email to universities teaching nursing. Ethical Clearance Reference: MRA-22/23-35171
Results: 61 registered nurses completed the survey (62.3% from university: 37.7% from practice). Most respondents included skin tone diversity in their teaching (63.9%) and had one of the two lightest skin tones (77.0%). Only 42.6% felt confident that skin tone diversity would be taught by other members of staff.
Participants completing the survey often recognised the importance of teaching skin assessment across diverse skin tones to prevent miss- or delayed diagnosis (32.8%) and prevent poor care or poor patient outcomes (57.4%). However, the proportion of participants certain of how to assess skin in people with dark skin tones was lower than assessing people with light skin tones for all skin conditions. Among those who remained certain of steps to include, confidence reduced when assessing people with dark skin tones.
In classroom-based teaching and simulation, 50% of participants included patients with dark skin tones "always" or "often" however, the availability of good quality photographs for classroom-based teaching may be preventing further inclusion. In direct patient care situations, the skin tone characteristics of patients needing an assessment determined what was taught.
Conclusion: Findings indicate there is some awareness of the importance of including diverse skin tones in teaching, but further education and resources are needed (For example, good quality photographs, and evidence-based guidance on clinical presentations for non-specialists). There may be a need to actively include patients with dark skin tones in areas with predominately light skin tones.
References:
Wounds UK (2021) Best Practice Statement: Addressing skin tone bias in wound care: assessing signs and symptoms in people with dark skin tones. Wounds UK, London. Available to download from: https://link.edgepilot.com/s/91dba6af/EMfXUtZEQ0_cwnW4jWZC5w?u=http://www.wounds-uk.com/
Atkins, L., Francis, J., Islam, R. et al. A guide to using the Theoretical Domains Framework of behaviour change to investigate implementation problems. Implementation Sci 12, 77 (2017). https://link.edgepilot.com/s/0ef60ff1/anJ2GYRTeEq4sYz-lrXUZw?u=https://doi.org/10.1186/s13012-017-0605-9