The exhibition A-Z information
If you have a question, please browse this A-Z page and you will hopefully find the answer. From deliveries to balloons and catering to couriers, it's all in here
Audio visual/equipment hire
Please complete appropriate Index form.
Balloons
Helium balloons are permitted in the exhibition halls. If exhibitors bring in helium canisters they are responsible for the disposal of this; the venue cannot dispose of these.
Build up and breakdown
Please see the exhibition timetable here. Whilst every endeavour is made to secure the halls during build up and breakdown we would ask that all exhibitors are extremely vigilant whilst the access doors are open and always ensure that someone is on the stand at all times. Neither Pink nor the venue can accept any responsibility for any loss or damage.
For safety reasons, breakdown cannot commence until all visitors have left the exhibition halls – please see exhibition build up/breakdown times. Please assist us by asking all visitors to leave the halls as soon as the 'close of show' has been announced. Under no circumstances may any goods be removed from your stand before this time.
Power will not be switched on to stands during build up until it is considered absolutely safe to do so.
Power to stands is switched on 60 minutes before the exhibition opens and 30 minutes after it closes each day. It is the responsibility of the exhibitors to advise and pre-book a continuous power supply if needed.
Carpet
The exhibition halls are carpeted. If you have additional requirements, please complete appropriate form on the Index page. 
If you intend to lay a platform before laying carpet, it must be of natural timber, with a minimum thickness of 25mm nominal, or chipboard, blockboard, etc. With a minimum thickness of 18mm. If exhibitors do provide their own platform or flooring this needs to be securely fastened and to leave no residual marks (including tape). The venue will not be liable for this; and additional cleaning charges may be applied if this is leftover. 
Catering/refreshments
The provision of refreshments to your stand is NOT permitted by Kingsgate Conference Centre.
Ceiling height
The maximum height limit for any form of standfitting, including lightings, structures and/or graphic towers is 2.4m in both the Nevis and Millennium Suites, the ceiling height is 2.65m.
Please note that any structures exceeding the height limits stated above will be asked to be removed by the conference organisers. 
Children
Under no circumstances will individuals under the age of 16 be allowed into the exhibition area during the build up and breakdown periods. All visitors under the age of 16 must be accompanied by an adult. However, as organisers, we do not encourage children to attend a trade show and to this end we have no childcare facilities available.
Cleaning
The gangways and passages will be cleaned daily. 
During set up and on departure, please leave all rubbish in the designated area separating it accordingly to comply with our environmental policy. Please note that exhibits will not be cleaned, this remains the exhibitor's responsibility. 
Any exhibitors or their contractors leaving excessive amounts of rubbish or materials behind at the end of the show are liable for any costs associated with their disposal.
Contractors
Any exhibitor using a contractor to build or set up the stand will need to inform the organisers by email to dawn@pinkatpink.com. 
Courier collections
Any items to be collected by courier after the event must be colllected on Thursday 19 May. There is strictly no storage after the event as the Scottish Cup final takes place on 21 May. Anything left will be disposed of.
Deliveries
There are no deliveries permitted through the stadium's main reception entrance pre-event, post-event or on the day of the event itself – these must be made via the underground roadway which can be accessed from the west of the stadium, off of Carmunock Road.
The roadway is open between the hours of 7am and 7pm – there is no access out with these times.
The only items permitted into the venue through main Reception on an event day are those which can be carried safely by 1 person (i.E. A small pop-up stand, individual boxes, etc.) – These materials must be transported into suites via the 2 guest lifts located behind the main reception desk – this is for stadium health & safety regulations and is non-negotiable.
You can send packages to Hampden Park Stadium to arrive Friday 13 or Monday 16 May. Please ensure that all deliveries are addressed as follows as well as including your name and stand number:
Society of Tissue Viability 2022 Conference, 17/18 May,
Sodexo Sales Office, Hampden Park, Letherby Drive, Glasgow, G42 9BA
You may find the below contacts useful when making your plans.
Humber Sameday – 159 First Lane, Hessle HU13 9EY transport@humbersameday.co.uk
They can arrange collections from anywhere in the UK usually at short notice. Whatever your transport needs from documents to pallets they can find the solution using dedicated vehicles, professional drivers & the latest technology.
2010 Productions – chris@2010productions.co.uk / 07860 944 275
They offer an excellent, friendly & professional service for all your exhibition and conference needs.
Any items to be collected by courier after the event must be collected on Thursday 27 April. There is strictly no storage after the event  as the scottish cup final takes place on 21 May. Anything left will be disposed of.
Dilapidation charges
Please remember that you are responsible for charges incurred for any waste that requires special removal (eg. Carpet tape) and for making good any damage caused to the fabric of the exhibition buildings by you, your agents or contractors. 
It is in your own interest to satisfy yourself as to the condition of your site before commencing the building (space only) or dressing (shell scheme) of your stand and again after its clearance. The organisers will pass to the exhibitor any charges for damage to the exhibition halls caused by exhibitors, their staff or their contractors.
Disabled visitors
The disability discrimination act (DDA) states that all service providers have to make it possible for all customers, no matter what their disability, have equal access to all services and locations. Failure to comply with the dda can lead to a fine up to £50,000. This relates not only to the venue but also to all service providers including exhibitors. It is in your own interests to ensure that your stand is accessible for all customers.
Please remember that not all disabilities mean that the person has to have wheelchair access. A significant number of disabled persons have other disabilities such as arthritis or hearing difficulties.
Distribution of promotional material
All business including the dispensing of literature and promotional material must be conducted from your stand. Exhibitors or their representatives are forbidden to hand out leaflets, put up posters etc, at the entrance to the event, on the walls, in the gangways or in any part of the exhibition halls or venue unless there is a specific sponsorship arrangement with the organisers.
Electrics
All electrical installations must be carried out by Index group. They are the official electrical operatives and therefore comply with current eva regulations – see order form for a list of services and products. There is a summary of installation regulations included with this manual for any space only stand contractors. All electrical items must carry a valid pat test sticker.
Shell scheme stands will be provided with 1 x 500 watt power socket and 2 spot lights, space only stands will need to organise their electric requirements with Index.
Emergency procedures
It is the responsibility of every exhibitor and contractor to ensure that all employees working at the Kingsgate Conference Centre during the conference are familiar with the emergency procedures.
In the event of any outbreak of fire, however small, the fire alarm should be activated and the area evacuated. Only trained, competent staff should attempt to fight the fire with extinguishers if it is safe to do so. Central control should be contacted either via the organisers or security.
Exhibition guide/programme book
The exhibition guide is available in the programme book and will be available free of charge to every visitor at the conference. Exhibitors are entitled to their address and contact details, a logo and 50 word profile in the guide. Please send by email to dawn@pinkatpink.com by the 31 March 2023.
Exhibitor badges
Every member of your staff who will be entering or working at the Kingsgate Conference Centre during the exhibition requires a pass to obtain access. Find out how to order badges here.
Please note that exhibitor passes do not allow access to the main conference agenda sessions, you must be registered as a delegate to be allowed access.
Fire procedure
In the event of any outbreak of fire, however small, the fire alarm should be activated and the area evacuated. Only trained, competent staff should attempt to fight the fire with extinguishers if it is safe to do so. Central control should be contacted either via the organisers or security.
The fire alarm is tested at 10am every Tuesday, otherwise everyone will be evacuated to the main car park which is the evacuation point for the south stand.
First aid
Please address any first aid issues to the Society of Tissue Viability Helpdesk and / or call the emergency services (via the Conference Centre Reception).
Fixing exhibits
Hook velcro or similar must be used to attach light exhibits to the shell scheme panels. Under no circumstances must nails, screws, staples etc be used. Advice and fixings for heavy exhibits can be obtained from index group.
Exhibitors are liable for any damage caused to shell scheme by using unsuitable fixings, or failure to remove fixings from shell scheme post show. 
Furniture
There are limited items available to hire from Index, details of which can be found on the standfitting form on the Index page. The deadline is 31 March 2023.
Gangways
Gangways must remain clear at all times including build-up and breakdown. Exhibits and standfitting, including doors or windows that open, must not project into the gangways.
Graphics
Graphics will not be permitted if affixed to towers and walls that overlook other stands where the logo/message is considered by the organisers to intrude on the neighbouring stand. Index can supply shell scheme graphics, find out how to contact them here.
Health & safety
Health & safety has become one of the most important issues within the exhibition industry. It is an issue which no one can afford to ignore and it is Pink's aim to promote industry standards by adopting a responsible attitude towards health and safety. Please refer to the health and safety section of this manual for further information and ensure you complete your risk assessment form.
Hotel accommodation
Zanna events are handling hotel bookings on behalf of the Society of Tissue Viability. More information and make your booking.
Insurance
Exhibitors are responsible for insuring against any legal liability incurred in the respect of injury and loss or damage to property belonging to third parties if your corporate insurances do not already provide cover. In addition, you should insure against abandonment or curtailment of the event. A certificate of public liability insurance must be provide to dawn@pinkatpink.com
Internet/wifi
Free WiFi access will be provided and the log in details will be provided on-site.
Lifting
Lifting and handling requirements are available through Index, details via this link.
Lifts
There are 2 service lifts located in the underground roadway – one to service each side of the south stand.
If for any reason these lifts are unavailable on the date of the event staff will direct you to the secondary service lifts which can be used as an alternative.
The lift dimensions are as follows:
Door width: 1.3m
Door height: 2.1m
Interior width: 1.4
Interior depth: 2.6m
Interior height: 2.2m
Interior diagonal width: 3.0m
Load capacity: 1600kg
Lighting
General hall lighting is provided but it is strongly recommended that you also have additional lighting on your stand to highlight your exhibits. All lighting installations must be carried out by the official electrical contractor, Index Group and comply with current EVA regulations. Index group will be happy to give you advice on your lighting requirements. Get further information and order.
Shell scheme stands will include 2 spot lights, space only stands will have no lighting provided, this must be ordered separately.
Long runs of walling
Long runs of walling are not permitted. All stands must have at least one third of each frontage open or fitted with approved transparent material. Walls exceeding 2.4m in height must be set back 0.5m from the perimeter of the stand except with permission from the organisers.
Lost property
Lost property should be handed into the venue Reception.
Materials
All stand construction materials must be non-flammable and may be subject to spot checks by the venue fire and safety officers. Further information can be found in the standfitting and electrical regulations section of this manual.
Modular systems/pop up stands
Exhibitors may dress their shell scheme stands with their own modular display system, but should check the dimensions as shown in the shell scheme specification below. Please note modular or "pop up" displays (unless expressly designed to do so) cannot be used as the only stand construction on a space only site. Appropriate walling must be provided to separate the stand from its neighbour(s) and to give an acceptable level of dressing.
Music/entertainment
If you intend to play pre-recorded music on your stand you need both phonographic performance ltd (ppl) and performing rights society (prs). If you intend to have live music performed on your stand, you need a performing rights society (prs) licence only.
Name boards
A name board will be supplied to all shell scheme stands. However, it is necessary for you to let us know how you would like your name to appear. In the event that you don't inform us, the name board will be supplied using the name given on your original booking form.
Please note: the shell scheme cost includes standard lettering only on name boards.
Noise and odours
No noisy work or work producing objectionable odours will be permitted during the open hours of the exhibition. Noise/odours must be kept at a level that is not a nuisance to neighbouring stands.
Patents and copyrights
The organisers reserve the right to exclude or reject from the exhibition halls, any exhibitor who in the opinion of the show owners is promoting, selling, marketing or exhibiting items or products that are in any way copies or reproductions of any other product or item already being produced by any other exhibitor or manufacturer.
Information about applications for patents and copyrights can be obtained from the intellectual property office.
Refreshments/Catering
The provision of refreshments to your stand is NOT permitted by Kingsgate Conference Centre.
Risk assessment
Every exhibitor MUST submit a risk assessment by email to dawn@pinkatpink.com by 31 March
Security
The organisers will take all reasonable security precautions during the build-up, open and breakdown periods. However, all exhibitors are advised that they should take sensible steps to protect their property. Please remove or lock away valuable items overnight or when unattended. The doors to the exhibition halls will be locked over night. Our stadium control room is manned 24 hours and reception will be manned during event hours.
Any precautions you take are in your best interest as neither Pink nor any appointed contractors are responsible for any loss or damage to any goods at any time during the exhibition. It is essential that you report any loss sustained from your stand to the organisers/security immediately.
To help ensure effective security at the show, please follow these guidelines:
Delegate one member of your stand personnel to be responsible for your company's safety and security at the exhibition.
Do not leave cash, handbags, phones, valuables etc., In drawers, cupboards or on open exhibits on your stand. Do not leave wallets in unattended clothing.
Check all lockable desks and cupboards before leaving your stand.
Please note that build-up and breakdown days are high risk periods.
You are recommended to work in pairs so that the stand is manned at all times.
On show open days make sure your stand is manned prior to the official opening time and do not leave your stand at night before the halls are clear of all visitors.
Should you have small valuables which you wish to leave on your stand, you are advised to provide yourself with lockable steel cabinets or other safe storage areas.
Shell scheme specification
The shell scheme package consists of the following:
1 x shell scheme aluminium framed stand with black tweed walls*
1 x 500 watt power socket & 2 x spot track light
1 x graphic name board
May be open on one or two sides
Velcro friendly walls for attaching graphics
Wall panels reduce background noise
*The number of stand walls are dependent on your position, so please check your booked stand area on the floor plan provided.
Graphic sizes
Plans are not generally required from exhibitors using the stand shell scheme unless it is intended to build within the standard shell scheme unit, or to alter it in any way. You will be liable for any damage/dilapidations you may cause to your shell scheme.
The size of the total visible area of each infill panel is 945mm wide x 1,970mm high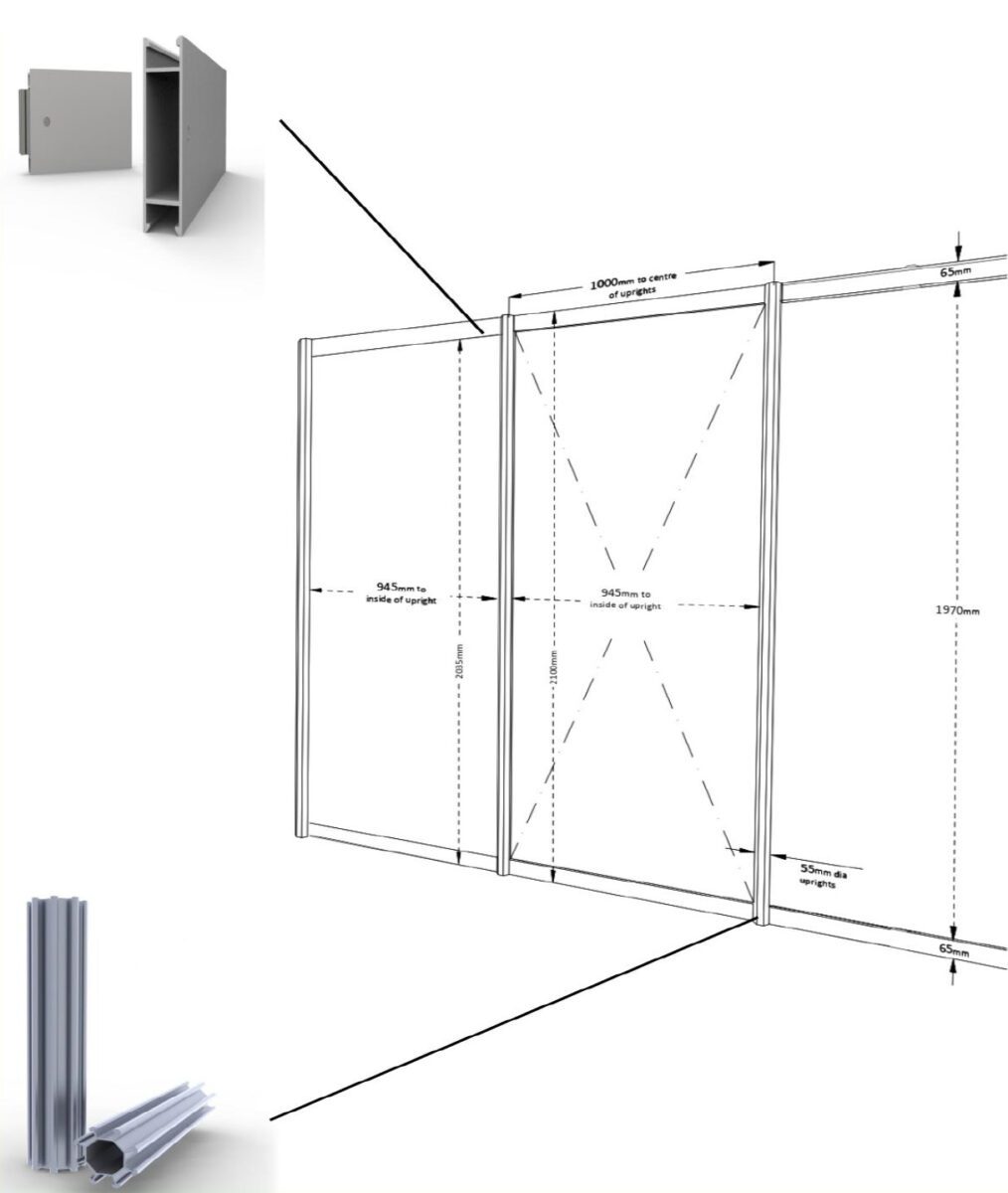 This is a 3x2m typical shell stand open on one side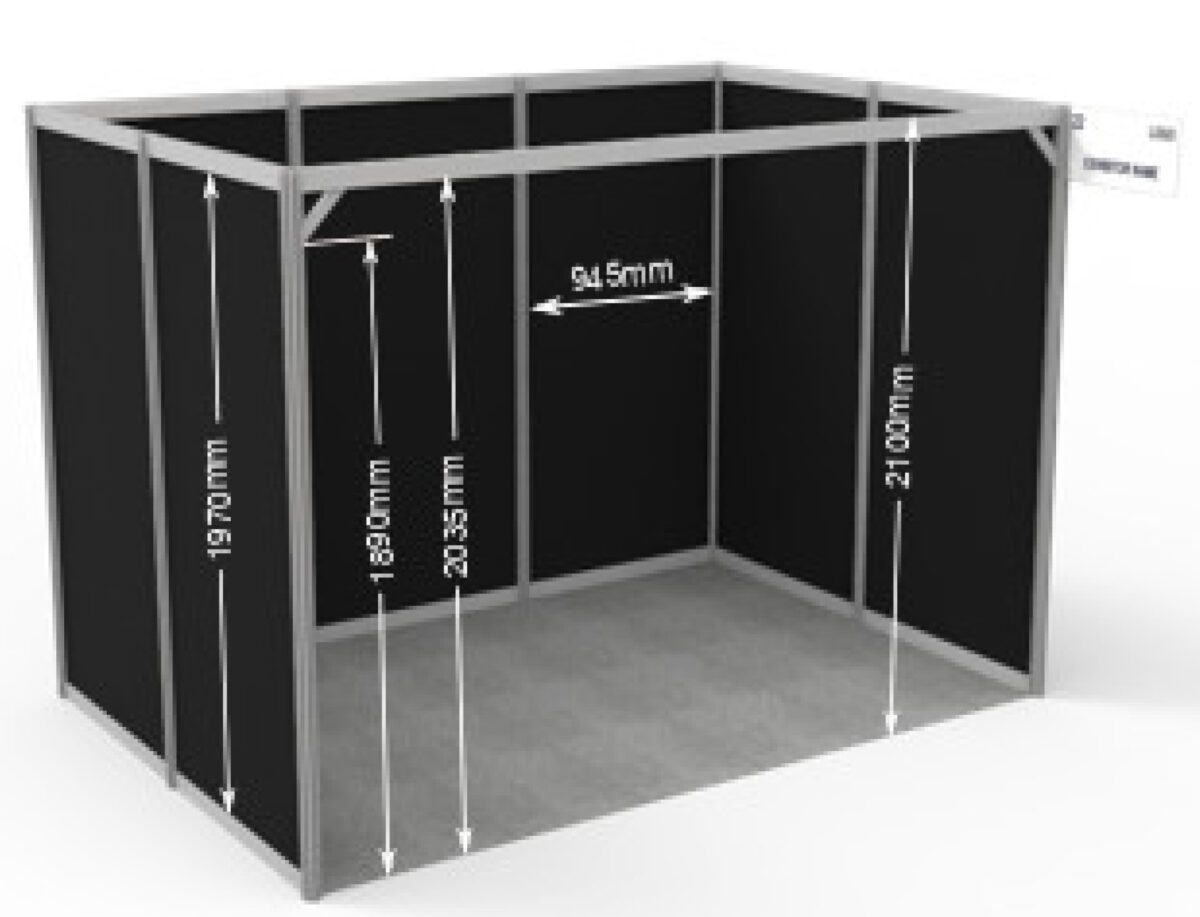 Space only specification
See the space only stands information page. Please note that stand plans, risk assessments and method statements must be submitted to dawn@pinkatpink.com by 22 April 2022.
Stickers
Self-adhesive advertising stickers are not allowed in the exhibition halls; please do not stick anything to the walls or windows.
Storage
There are no onsite storage facilities for packing cases and other materials at the Kingsgate Conference Centre; where possible please take any flight cases etc. offsite. 
Terms and conditions
This exhibitor manual forms part of the terms and conditions that you have agreed to on signing your contract for stand space.
Please note that you may be excluded from occupying your stand if full payment has not been made in accordance with the payment structure as laid down in your contract for stand space.
Wheelchair facilities
Under the exhibition licence, the admission of wheelchairs for disabled visitors is permitted. They can be either battery or manually operated and, for safety reasons, must be accompanied by an able-bodied adult.