I can honestly say that being a Trustee is one of the best things that I have ever done
Meet Dr Ray Samuriwo, Associate Professor - The many lessons that he has learned as a member of the Society have had a major impact on how he approaches patient care, education and research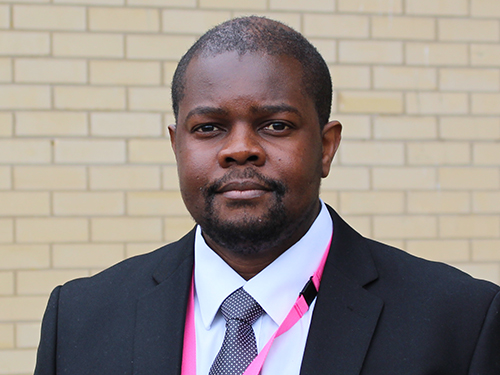 What's great about being involved
The Society of Tissue Viability (previously known as the TVS) is a diverse community of people from different backgrounds with a shared passion to improve the quality and safety of care that people receive to enhance the health of their skin, and to heal any wounds that they may have.
The Society is a vibrant and dynamic community of a wide range of people such as members of the public, carers, health and social care professionals, clinicians, educators, policy makers, researchers as well as people who work for companies that provide treatments, therapies and devices designed to facilitate skin health and wound healing. One of the unique things about the Society is that it brings together this wide range of people irrespective of background, expertise, or experience to work together on the common goal of improving skin health and wound healing in the UK and beyond.
Why he joined
He joined the Society many years ago when he was working as a clinical academic in a hospital setting as he was keen to work with others who had a shared passion for improving skin health and wound healing through research, education, care delivery, in partnership with patients, as well as the patient's family, loved ones, and carers.
He thought that being a member would provide him with the opportunity to work with and get to know many of the leading clinicians, educators, and researchers whose work had informed the way he looked after the skin and wounds of his patients. He also joined the Society as it gave him free access to the Journal of Tissue Viability, which he still looks forward to reading to this very day.
Being a member
Being a member provides more opportunities and support than he had ever imagined. From the time that he joined, everyone was very friendly and supportive. There is a long-standing culture of mutual support, kindness, and compassion within the Society, which is evident in the fact that many of the people that he worked with on different projects are now dear friends of his.
There is a special kind of serenity that comes from having someone that you can reach out to at any time for support or just to have a chat and this is certainly the case with the many friends that I have made as a member of the Society. The many lessons that I have learned as a member of the Society have had a major impact on how I approach patient care, education, and research.
Stepping up to be a Trustee
He put himself forward to be a Trustee as he wanted to play his part in fulfilling the mission of the Society. He had seen as a member first-hand all the hard work that the Trustees had done to drive forward the work of the Society and to improve skin health and wound healing in the UK, across Europe and the rest of the world. When he became a member of the Society, many of the founding figures of wound healing in the UK and Europe were Trustees, and he saw it as an obligation for him to build on their legacy by volunteering to be a Trustee when the opportunity arose.
What's it like being a Trustee
Ray found it very rewarding to work with a variety of different people and members of the Society as a Trustee. The Society has a very broad mission and there are always many opportunities to be involved in and to complete a variety of projects and initiatives. The role of a Trustee provides a great opportunity to work closely with many world-leading experts in patient care, education, and research as well as industry. It is also a great opportunity to learn, grow and develop your own knowledge and understanding of different aspects of skin health and wound healing.
I can honestly say that being a Trustee is one of the best things that I have ever done.