Liang feels she has been nurtured by the Society of Tissue Viability and has received unfailing support
Meet Liang who is very grateful for the opportunities provided by the Society of Tissue Viability which have helped her career development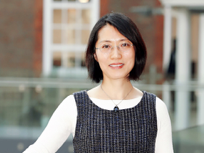 How Liang learned about The Society of Tissue Viability
Liang first learned about The Society of Tissue Viability during her PhD study about pressure ulcer prevention in spinal cord injuries. She had always been inspired by Professors Dan Bader and Jane Nixon for their world leading research in Tissue Viability. She was a regular reader of the Journal of Tissue Viability for many years and was delighted to be introduced to The Society of Tissue Viability by Prof Dan Bader and Tina Chambers whilst visiting various European conferences. She has always found the Society of Tissue Viability to be an invaluable source of information and a very friendly Society.
Why does she value being a member of the Society of Tissue Viability?
Liang is now lecturing and doing research in the Department of Nursing and Midwifery, Middlesex University. Every year, she has many students choosing pressure ulcer topics for their final year dissertations. She found the Society to be very supportive for not only providing rich information for education but also advocating the importance of tissue viability research.
She really values the regular Society newsletters with information about events, current guidelines in wound care, which are great for keeping her up to date as well as identifying gaps for future research projects.
As a Society of Tissue Viability member, she was very lucky to get an educational grant to attend their conference in 2018 and presented her project in Newcastle. She was also sponsored to attend EWMA in Krakow, Poland to present a paper. She is very grateful for the opportunities provided by the Society of Tissue Viability which have helped her career development. 
What's it like to be a Society of Tissue Viability Trustee?
Having been nurtured by such a fantastic Society and having received unfailing support, I would always like to give something back, especially through sharing my skills and research which is beneficial to the Society.
Liang applied to be a Trustee in 2019 and since then, has had the opportunity to meet with other Trustees with diverse expertise in wound care across the UK which has helped her to establish new collaborations for research.
As a Trustee, Liang was proud to be involved organising and promoting the student sessions at a Society of Tissue Viability conference. It was very rewarding, particularly when she received this positive feedback:
"I wish next time there will be more such sessions as its very beneficial. I feel it is a very important topic because as nurses and midwives we are going to be dealing with wounds every day"
"I have realised that as undergraduate students, we have limited tissue viability education and having this conference has made a huge difference towards my knowledge and attitude now."